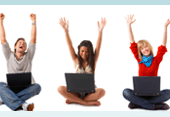 Testimonials
For more of our success stories click here to visit our FACEBOOK page
Thankyou so much Anna and Irene at Appoint Me. This has been a wonderful opportunity I have completed my level IV in Frontline Management, the teachers were amazing thanks Sara and Cate and met some amazing people in my group. Learnt so much and had a great time. Thanks Again, Sally - 5 stars
Sally P Facebook Post
I would like to thank Irene from AppointMe for calling me back when ...I applied for a job. She recommended I do the Certificate IV Frontline Management (Hospitality) course to help me get more experience and improve my skills. I was a little wary at the start, but as soon as I started the course I realised it was a great opportunity. It has helped me further develop & perfect my skills, especially coffee & cocktail making. This will help me get a job as it's also helped with my confidence.
Kimberley Victor, Facebook Post May 2015
I applied for an Office Administrator role through Recruit safe and received a call from Anna the next day inviting in me for an interview. I was very impressed with how quickly I got a response from Anna, in securing me the job and me starting the position the next day. The role was very enjoyable and perfect for me. It was a pleasure to work with Recruit Safe and I felt very comfortable contacting Anna with any questions I had. I hope to work with Recruit Safe (specialist recruiter who promoted my skills and availability to the employer via appointme) again in the future.
Linda Farrell, Dec 2014
Recruit Safe is one of our Recruitment Partners, we are sharing this on their behalf.
Thank you Anna and everybody at AppointMe! I have successfully completed Certificate IV Front line Management. Throughout my training and job search, both Appoint me agency and my teachers at The Pub School have been very supportive and provided me with the skills that I need to succeed in the hospitality industry. All the teachers were very knowledgeable and made the course fun, interesting and a comfortable environment to learn in. The 'AppMe-RecruitMe' app is very easy to use and I was provided with an interview opportunity straight away!
Highly recommend to anybody job searching or looking to up-skill. Very impressed :) Thank you for all your amazing work!
Heleni Wood
Finding a new job was proving to be a real challenge last year due to the recession. Feeling more and more dejected with the limit in job prospects on the market, I attended the Melbourne Herald Sun 'Careers Expo' in July 09. There I learnt about "appointme.com.au" and the service it provides to employers, job seekers and recruitment agencies. I decided to register with them and thanks to appointme, I got a job within 1 week of returning back from overseas. I think that the service they provide is excellent and highly reliable and I would recommend job seekers to register with them so that they can have a better chance at finding a job they want quickly.
Naziana Oomar